RIVERBEND CO-OP LTD 2023 AGM
Actions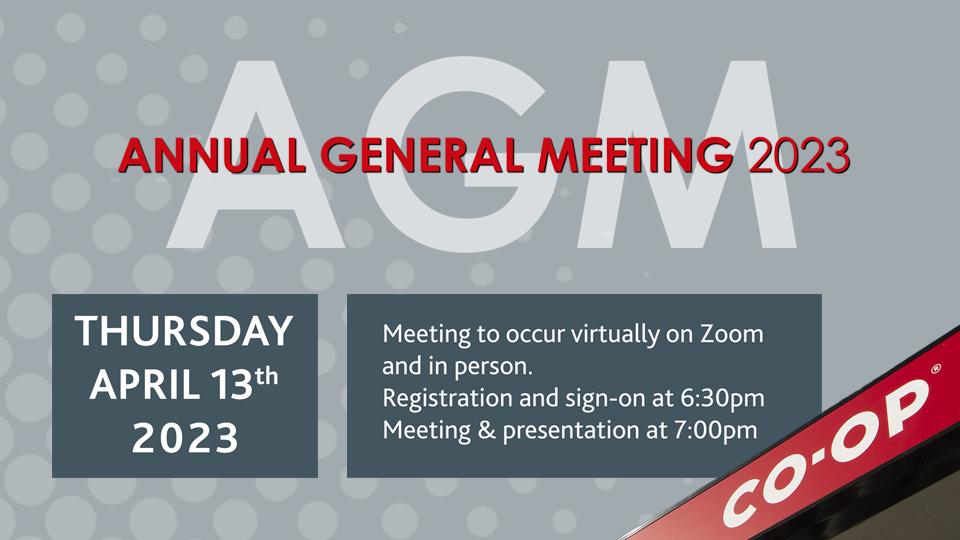 RIVERBEND CO-OP LTD 2023 AGM
January 4, 2023
Riverbend Co-op's
Annual General Meeting
April 13, 2023
7:00 PM
The meeting will occur virtually on Zoom and in person at the Outlook Legion Hall. To be eligible for door prizes you must preregister.

ELECTION FOR TWO DIRECTOR POSITIONS:
We have received three nominations for Director (in order received) for two positions and will have an election:
Susan Kasper
Ed Spigott
Lee Ponto
The Election for Director will occur between April 5 – 11, 2023. For full details regarding election procedure, polling locations, and to 'Meet The Candidates' follow THIS LINK.
There will be NO further voting after regular business hours on April 11th.

We have received two nominations for Associate (in order received) for two positions, and are elected by acclamation:
Jason Low
Carman Fowler
RESOLUTIONS
There are five resolutions that will be considered and voted on at 2023 Annual General Meeting.
Resolution 1

—

Directors Compensation
Resolution 2

—

Bylaw change qualifications of Directors.
Resolution 3

—

Nomination of Directors
Resolution 4

—

Officers
Resolution 5

—

Associates
For full details of the proposed resolutions follow THIS LINK.
Annual Report
Riverbend Co-operative's 2022 Annual Report will be posted to THIS LINK on April 4th. Copies will be made available at the Annual General Meeting. Following the meeting, copies will be available and at our Administrative Office (101 Sask. Ave. East) in Outlook.
AGM Agenda
The meeting's agenda will be available on April 4th and can be viewed by following THIS LINK.
For more information:
If you require more information, or have any questions or concerns please e-mail agm@riverbendcoop.com.
Discover more: