Riverbend Co-op Annual General Meeting 2021
Actions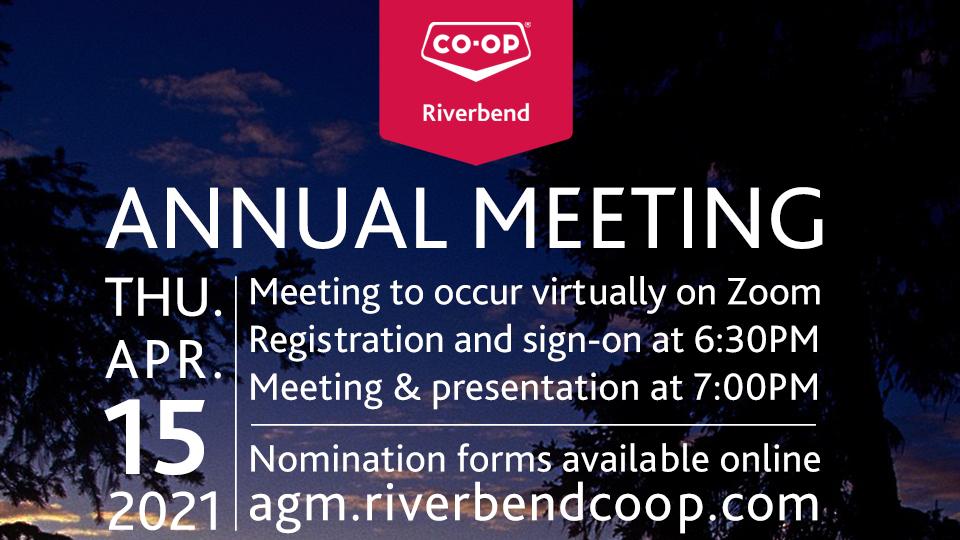 Riverbend Co-op Annual General Meeting 2021
December 29, 2020
Riverbend Co-op
Annual General Meeting
April 15, 2021
7:00 PM
Riverbend Co-op's Annual General Meeting will take place April 15, 2021 at 7:00 PM virtually. The Registration period will begin March 29, 2021.

Call for Nominations to the Board of Directors:
Call for Nominations for three director positions for three-year terms.
Nomination Form: See below for link to form
See more about the qualifications of Directors here.
Nominations Close: March 18, 2021
Submit your signed nominations to agm@riverbendcoop.com or drop off at Administration Office by March 18, 2021.
Election to be held at Annual General Meeting April 15, 2021.
Proposed Bylaw Change
Pursuant to Riverbend Co-operative Ltd. Bylaws, notice that a resolution will be presented at the Annual General Meeting to repeal and replace bylaw 6.03 as follows:
Election of Directors and Filling of Vacancies
Repeal:
6.03 Except as provided herein, the procedure for election of directors and the filling of vacancies on the Board shall be specified in the Act.
Replace:
6.03 a Except as provided herein, Voting for Directors will be conducted by secret ballot in the manner which is approved by the Board of Directors;
b The manner of voting may include but is not limited to voting polls, in store voting, mail in or electronically or by all such methods.
c Successful candidates will be announced at the Annual Meeting. Resolution for destruction of ballots shall be made at the Annual Meeting;
Discover more: